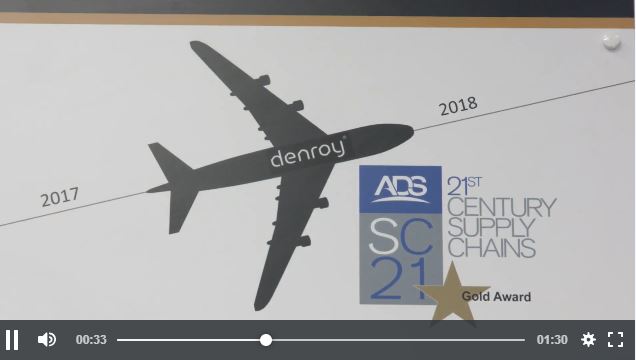 See also the interview with Colin Hart and John Irwin.
What do you do?
The Denroy Value Offer: R&D, Component Design, Demonstrator, Qualification & Approval, Tool Manufacture, Component Manufacture = Advanced Materials & Manufacturing, Competitive Pricing, On Time In Full, Excellent Quality, Right First Time.
Why did you choose to participate in SC21?                                                   
We got involved in the SC21 programme to improve quality and delivery performance, reduce operational costs and to increase the company profile to other Aerospace, Defence and Security tier 1 companies.
What has SC21 helped you to achieve?
We have increased sales by over 30% whilst improving our trading profit.
We have reduced scrap levels to under 4% and increased our usage of re-processed material with annual savings of £50+.
Through supply chain management built on RelEx and RMM we have reduced our stock levels of raw materials, freeing up cash for investment.
What would you say about SC21?
"SC21 has and continues to be at the heart of Denroy Plastics' operations. It has provided the company with a framework and the tools to focus on a culture of improvement and a common desire to provide the best quality and service at the most competitive price to all customers. In essence every individual in Denroy is now contributing to adding value. Denroy Plastics Ltd will continue to reinforce its position as the provider of choice for injection moulded components and assemblies to the aerospace industry and SC21 will help ensure the success of this in the future." – John Irwin, General Manager
Click here for the press release.