Competitive and sustainable supply chains are vital to the future growth and success of our industries. The SC21 Competitiveness programme offers a clear and practical framework that enables organisations to have greater efficiency and productivity and be more competitive regionally, nationally and internationally.
SC21 is voluntary, offering a scalable and structured pathway designed to strengthen your business and add value to you and your customers. It is supported by a Programme Management Office, a network of Regional Associations and of approved specialst support to guide participants along four phases: Engagement, Assessment, Improvement and Recognition, culminating in the achievement of industry-recognised performance standard awards, with three possible levels: bronze, silver and gold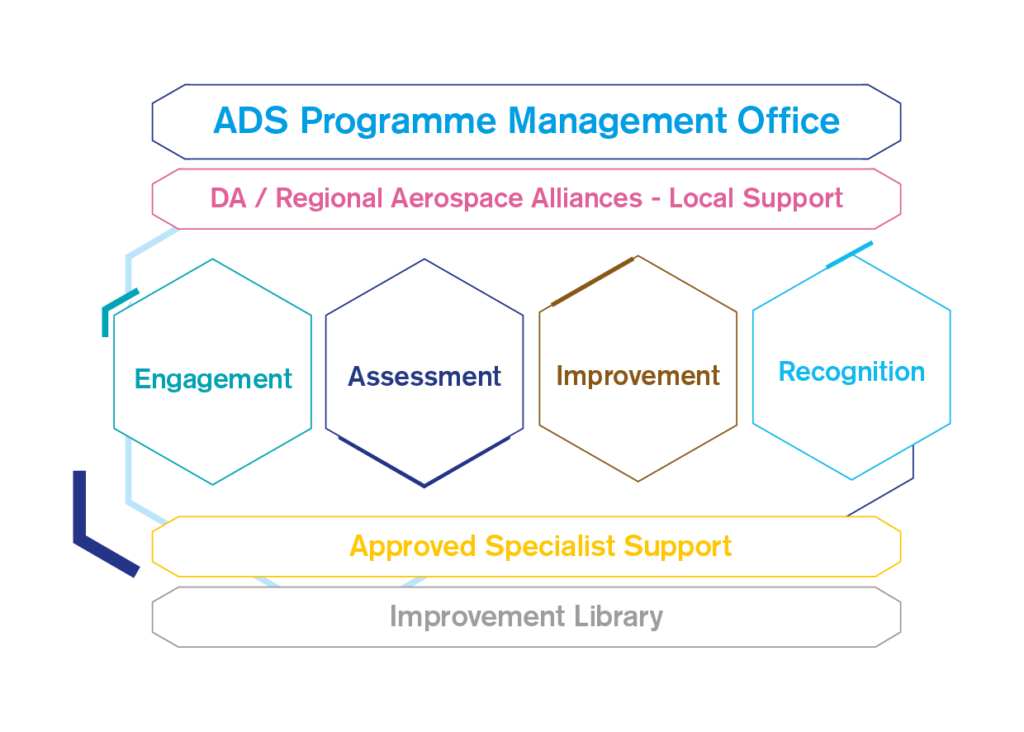 Getting started – Engagement
Launch your improvement journey by registering on the programme. There are a number of ways to engage:
Self Starter – joining through self assessment
Customer sponsored – joining at the request of a customer or engaging with our approved Practitioners.
Devolved Administrations (DA) or Regionally led – view contacts
SC21 participants must commit to developing a working culture that includes focusing on accreditation, development, performance and relationships, with the aim of improving competitiveness by better efficiency, removing duplication, lowering overheads and costs in the supply chain, all contributing to an improvement in the bottom line.
IMPORTANT: Signing to SC21 requires commitment at CEO or equivalent level within your organisation.
Benefits of Participating
Participating in the SC21 programme delivers recognised benefits across your business: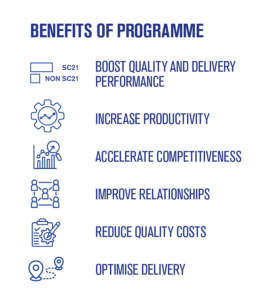 Productivity
Relationships

Improved delivery performance (OTIF)
Lead time reduction
Better cash flow
Reduced inventory
Labour and set-up time reduction
Greater focus on "fit for purpose" equipment
Consistent forecasting
Increased return on capital employed
Reduced number of overdue/backlog orders
Accurate planned vs. actual labour cost
Floor space utilisation

Cross-company team working
Better contract management
Long-term planning between customers and suppliers
Communication before and during the manufacturing process
Less customer complaints

Quality
Stakeholder Benefits

Quality cost reduction
Reduced cost of scrap and rework
Reduced dispatch cost (re-delivery)

Sharing resources
Industry training and development for employees
UK focus on improvement and competitiveness
SME support and communication
Cross-fertilisation between Customers, Suppliers and key stakeholders
Sustainability / sustainable procurement
Find out how other companies have benefitted from the SC21 process here and the Benefits Guide here.
Customer Trust
SC21 is supported and recognised by leading primes and OEMs. Built on 17 years of success, it is a best in class improvement programme for the aerospace and defence sectors and optimises the customer-supplier relationship for mutual benefit and in the best interests of the UK's national prosperity.
The SC21 Competitiveness programme collaborates with stakeholders to understand their challenges, anticipate their needs and explore solutions together, working to achieve long-term customer satisfaction.
Interested? Register to sign up
To register, please complete the registration form.