The SC21 Achieving Supply Chain Excellence events are aimed at helping you to improve your business in the global Supply Chain. These events provide an excellent networking opportunity and give attendees the chance to meet with the ADS SC21 project team, representatives from SMEs, primes and Government. The agenda usually covers:
Senior industry key note speakers
UK industry performance award presentations
Updates on major industry growth and innovation projects
SC21 programme update
A focused networking opportunity to meet senior supply chain companies
Case study examples of best practice from industry.
SUPPLY CHAIN SOLUTIONS FOR EXCELLENCE EVENT
'Supply Chain Solutions for Excellence' Event in '22 – on 21 July 2022 at the Farnborough International Air Show.
'Supply Chain Solutions for Excellence' Event
Thursday 21 July 2022 (11:00-12:45)
In person event at Farnborough International Airshow (FIA) Global Forum
Hall 1, Room Innovate 2, Show Centre, ETPS Road, Farnborough GU14 6FD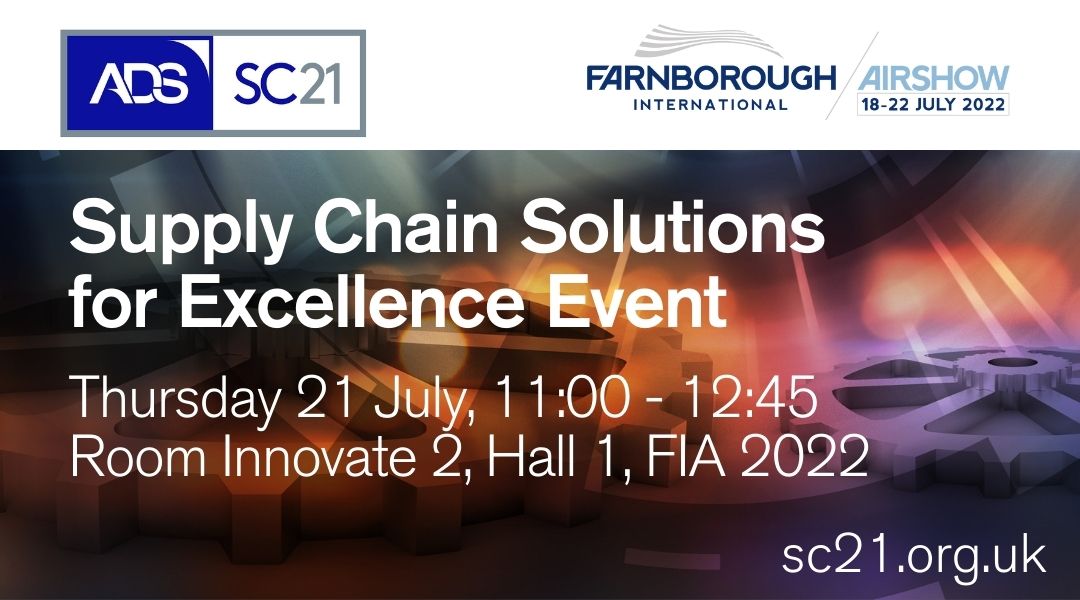 Agenda
11:00 Welcome and introduction: Kevin Craven, CEO, ADS
11:10 Why Competitiveness and Performance Matter – Action Plan for SMEs John Kite, Defence Commercial Supplier Relations TL, Ministry of Defence
11:30 AGP Update Colin Hart, Head of SC21, ADS
11:40 AGP for Supply Chain Solutions Panel
Focus on: Sustainability Amanda Wood, Sustainability Director, Supply Chain, BAE Systems
Focus on: Innovation Justin Davies Trigg, Senior Programme Manager – Aerospace, Innovate UK
Focus on: Digital/Aero 4.0 Sarah Blacksmith, General Manager Motion Control, Siemens
Focus on: Competitiveness Jerry Mabey, Supplier Management and Procurement Performance Director, Thales
12:00 SC21 Capability Showcase and Q&A Panel
12:25 Supply Chain Excellence Awards Ceremony Marika De Rosa, Data Management and Operations, ADS
12:40 Closing remarks Colin Hart, Head of SC21, ADS
SC21 PAST EVENTS